Insider Deals For Our VIP Buyers!
Learn How To Find Deals Before They Hit The Market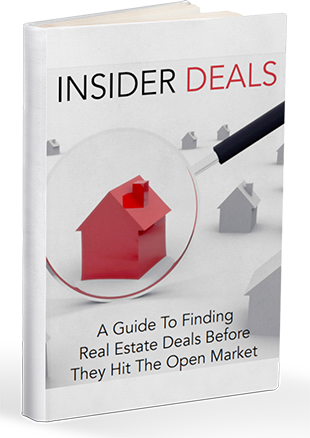 Pre-Foreclosures
A lot of people know that buying a home that's been foreclosed on can save you some cash, but did you know that you can get that home for cheap before the foreclosure sign is put up?
Specializing In Pre-Foreclosure
Learn why some real estate professionals choose to specialize in working with homes that are in the "pre-foreclosure" stage.
Learn To Buy Wholesale
Did you know that if you have cash when buying a property that you can find them at auction for much cheaper than once they reach the market.
There Are Many More Great Tips In This Free E-Book
Join Our Buyers List To Get VIP Access To Our Wholesale Deals
Because of our very effective marketing programs, we're able to get investment property deals that most other investors never even hear about. We pass those savings along to our VIP Buyers on our VIP Buyers list. We also sometimes pass on these deals to regular buyers that plan to live in the house and can close quickly. If you're interested in buying investment properties at discount prices… whether you plan to buy and hold as a rental property or fix the property up and resell it… make sure to join our VIP Buyers list today to get an email when we secure new properties that fit what you're looking for.

Join Our VIP Buyers List Today To Get Access To Some Great Wholesale Deals!
Fill out the short form:
Call (504) 399-8111 form more information